Updates include new Keyence KV Ethernet driver, improvements to the Configuration API, and secure remote project loading with ThingWorx®
PORTLAND, Maine, Sept. 27, 2017 /PRNewswire/ — Kepware®, a PTC business developing industrial connectivity software, today announced the release of the KEPServerEX version 6.3 industrial connectivity platform. Key enhancements include improved Create, Read, Update, and Delete (CRUD) functionality for the Configuration API, new time sync functionality for drivers with Electronic Flow Measurement (EFM) capabilities, a new Keyence KV Ethernet driver, and remote project loading via the ThingWorx® IoT Platform.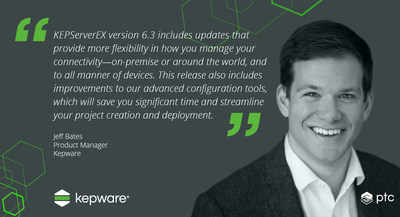 Photo – https://mma.prnewswire.com/media/563219/Kepware_KEPServerEX.jpg
"KEPServerEX version 6.3 is another strategic update to our industry-leading solution, with a focus on saving users time, streamlining their processes, and enhancing their project customization capabilities," said Jeff Bates, Kepware Product Manager. "This release will give users more control over their projects, even when connecting remotely. With version 6.3 we've also added a new driver to our industry-leading portfolio."
Included in the 6.3 release is the new Keyence KV Ethernet driver, which enables KEYENCE PLC users to easily and reliably connect KV series PLCs to diverse devices and software applications, including OPC clients and IoT solutions. KEYENCE PLCs are extremely popular in Japan, and Kepware's new Keyence KV Ethernet driver is localized in Japanese to further enhance its accessibility for Japanese-speaking users.
Along with the Keyence KV Ethernet driver, KEPServerEX version 6.3 also includes:
Enhanced CRUD Functionality for the Configuration API: Configuration API users can now remotely trigger project saves for any instance of KEPServerEX, create an object with a child hierarchy in a single transaction, and create multiple objects in a single transaction. Configuration API users can also now make bulk changes to the configuration and trigger ATG, enabling faster changes on larger projects. KEPServerEX version 6.3 enables users to interact less with the local configuration and easily write common code for objects in disparate projects.
Time Sync Functionality for Drivers with EFM Capabilities: Users can now set a custom time sync threshold for any driver with EFM capabilities and ensure no synchronization occurs unless a specific deviation limit is exceeded. OnPoll, the new time sync method included in version 6.3, also lets users configure time synchronization to occur only after an EFM poll. This reduces network traffic and provides users more control over time synchronization, without requiring them to open up additional communications with the device.
Remote Project Loading with ThingWorx: Taking advantage of the existing security of the ThingWorx native client interface in KEPServerEX, users can now import a KEPServerEX project from a local file store and push the project down to any connected instance of KEPServerEX. Once the file has been transferred from the platform to the local instance of KEPServerEX, the new project is loaded into the runtime. Users can easily adjust network settings and deploy KEPServerEX projects remotely—while managing all of their machine instances from a single ThingWorx platform interface.
Additional Resources
Contact a Kepware representative at +1 888-KEPWARE (537-9273) x208 or sales@kepware.com
About Kepware
@Kepware  is a software development business of PTC Inc. located in Portland, Maine. Kepware provides a portfolio of software solutions to help businesses connect diverse automation devices and software applications and enable the industrial Internet of Things. From plant floor to wellsite to windfarm, Kepware serves a wide range of customers in a variety of vertical markets including Manufacturing, Oil & Gas, Building Automation, Power & Utilities, and more. Established in 1995 and now distributed in more than 100 countries, Kepware software solutions help thousands of businesses improve operations and decision-making. Learn more at https://www.kepware.com/.
About PTC
PTC has the most robust Internet of Things technology in the world. In 1986 we revolutionized digital 3D design. Now our leading IoT and AR platform and field-proven solutions bring together the physical and digital worlds to reinvent the way you create, operate, and service products. With PTC, global manufacturers and an ecosystem of partners and developers can capitalize on the promise of the IoT today and drive the future of innovation.
PTC, the PTC logo, Kepware, and the Kepware logo are registered trademarks of PTC Inc. or its subsidiaries in the United States and other countries.
Media Contact
Torey Penrod-Cambra
Kepware
+1 (207) 775-1660
tpenrodcambra@ptc.com
Logo – https://mma.prnewswire.com/media/563220/kepware_logo.jpg